Customized Rolling Stock
For Our Model Railroad Empire
---
Ann Arbor Railroad
For some reason, my son has decided that he really likes the Ann Arbor Railroad, especially the time period after it was controlled by the Wabash Railroad. Since the layout started out to be centered around the Wabash, this seemed to be a natural extension. The pictures and text in this section focus on custom detail work he has done for the 'Annie'. Rolling stock, or motive power, that is 'stock out-of-the-box' with no customization of any kind will not be documented here. Current Ann Arbor motive power includes an undecorated Atlas RS-1 that has been custom painted and weathered, and an undecorated Atlas GP35 that has been custom painted and detailed, however decals have not yet been applied, nor has it been weathered. (Pictures of the GP35 will not be posted until it is done.) Both locomotives have been converted to DCC. You will find detailed information about the RS-1 on the motive power page. Customized rolling stock includes two weathered 50 ft. box cars and a kit-bashed caboose.

This car started life as a Roundhouse 50 ft box car. It came equipt with Microtrain trucks and couplers. The car has been weathered. Graffiti has been added to the car using a very fine brush. My son found a picture of the actual car on the web dupliated it to the best of his ability. (The web link to the picture of the acutal car will be added at a later date.)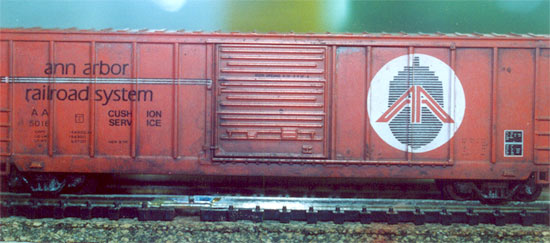 This car is the identical Roundhouse 50 ft. box car. In this case, it has been heavily weathered, again to match a picture of the actual car it represents. These cars are out of production. I would be interested in aquiring 2 or three more of them. If you have one or two that you would like to 'unload' at a reasonable price, please e-mail me.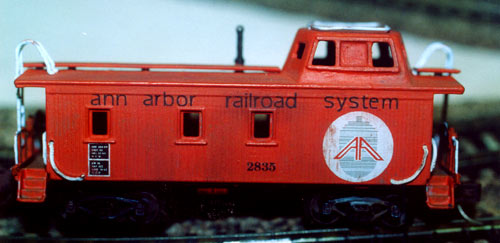 The caboose pictured above has been heavily modified. It actually started life as a MTL Wabash caboose and an Atlas Pennsy caboose. The Ann Arbor Railroad, like the Wabash, used cabeese that had a sloped-sided cupulo located towards the very back of the car. In the n-scale world, however, all cabeese manufactured have cupulos that have vertical sides and look like boxes. The cupulos are also located more towards the center of the caboose. The Mtl Wabash caboose has 4 side windows. In order to create this caboose, the Wabash body was cut off behind the third window. The section with the 4th window was cut out, and a panel from an Atlas caboose was cut to size and fitted in its place. The original cupulo was removed, and a new cupulo was fabricated from styrene. Since the cupulo is located further toward the rear of the caboose, the roof had to be modified. All decals were custom made.

This is the cusomized Ann Arbor train as it appears on our pike.
---
This page last updated 12/1/2004
Back to site map