Micro Structures Kits
---
For those not familiar with Micro Structures kits, they are made from photo-etched stainless steel. They feature tab construction. Some parts have to be glued together. Many of the parts need to be bent to the desired shape. Of course, all parts must be painted. The first kit we acquired was the Parkway Diner. I will include pictures of some of the various stages of construction for people to see what is involved. Other kits will simply have a finish photo, and maybe a few comments about the construction, or painting. Kits may be either etched stainless steel, or etched brass. They are definitely not for the inexperienced kit builder.
---
The Parkway Diner
Micro Structures Ki8t # 100-D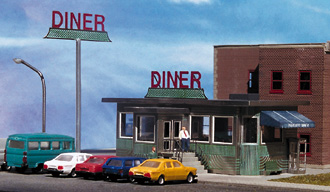 Went on a road trip with a friend and stopped at a hobby shop in Chelsea, Michigan. Saw this diner kit and made an impulse purchase. The picture above is from their web site.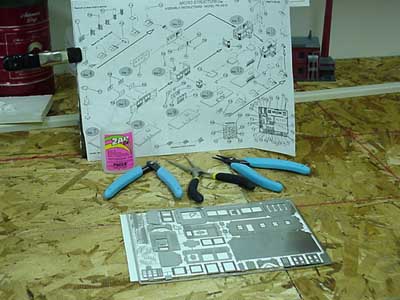 The first picture shows the opened kit, the instruction sheet, and some of the tools needed for construction. We purchased a couple of pairs of special pliers recommended for working with etched metal kits.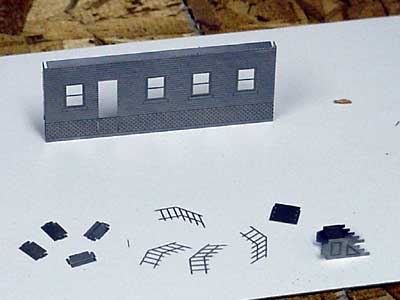 The second picture shows a side wall bent into the proper shape, along with some of the smaller detail parts that have also been bent into the proper shape.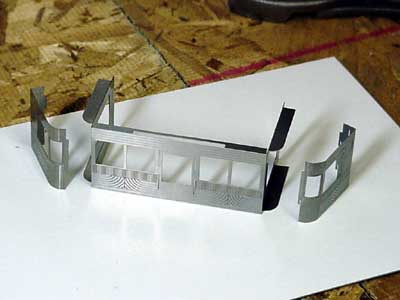 In this picture, the main building structure is starting to take shape. If you look closely, you can see the tabs on the right end piece of the diner that fit into slots on the sidewall support structure. Not documented in these photos is the construction of the phone booth, and the park bench.
---
Back to site map

This page last updated 2/0/2006