Basket and containers from natural materials.
---

Gourd: Solitary Heron
This gourd is approximately 9 X 9 X 9 inches. It is designed to stand on a shelf or counter, but could easily be adapted to be worn as a gathering pouch. The design of the solitary heron among the reeds was done free-hand with a wood burning tool. The gourd is trimmed with dark deer hide.
---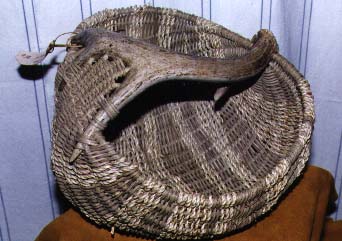 Large Antler Basket
This basket is made from a mixture of commercial reed and bark. The handle is an antler from a Fallow Deer. The basket is about 18 inches across and well over 12 inches high.
---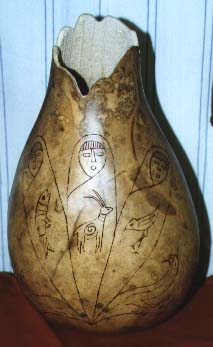 Gourd: Three Realms of the World
This gourd was inspired by a trip to Utah in 1996. We visited many sites that had petrogliphs and pictographs dating back to early native American habitation. The graphic was done with a wood burning tool. The gourd stands about 18" tall.
---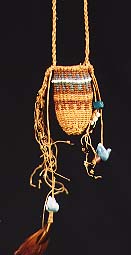 Memory Pouch
Woven out of waxed linen and embellished with glass beads, this tiny basket is about an inch tall and half an inch wide. Ann's memory pouches were inspired by Native American potlach pouches found in the northwest. Worn as a necklace, the owner keeps tiny keepsakes, a strand of hair, a piece of reed, a tiny pebble, that remind them of pleasant memories.
---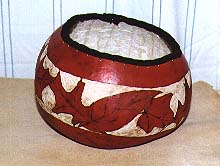 Gourd: Leaves
Ann has combined two techniques on this gourd. The details of the leaves are done with a woodburning tool. The outline of the leaves was created by using a wood carving tool to carve away the outer layer of the gourd. The rim of the gourd is trimmed with deer hide.
---
Small Antler Basket
This antler basket is made almost entirely from natural materials, including cedar bark, and corded basswood bark. It is less than 12 inches in any direction.
---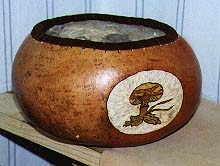 Gourd: Mushroom
This gourd depicts a small colorful mushroom. The details of the mushroom have been highlited with a woodburning tool, and the shape of the mushroom has been created with a wood carving tool. A variety of watercolors and dyes were used to "paint" the mushroom. Like many other gourds, the rim is trimmed with deerhide.
---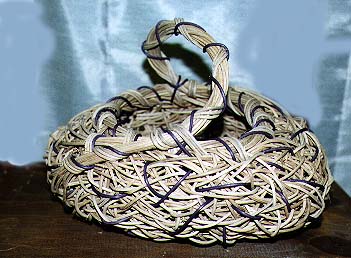 Random Weave Basket
A departure from containers that are based on native American or colonial tradions, this basket basket is not only decorative, but is also functional.
---
The above pictures are examples of the many different containers from natural materials that Ann creates. Most, but not all, of Ann's work is based on Native American art and traditions.
Ann has had several baskets featured in Basketry Round-up, 1991 and 1992, and has had an article on working with basswood cordage published in Basketry Roundup, 1992.
---
alux@aol.com Ann Lux Return to Fred and Ann's homepage